Throughout November 2022 the feature version of THE AREA is available for free streaming through MAS Context.
Public screenings are currently on pause because of the pandemic, but please contact the team to schedule a private or virtual event.
Universities, libraries, and other institutions may purchase or license the film through our distributor, Grasshopper Films.
A list of previous public screenings is below.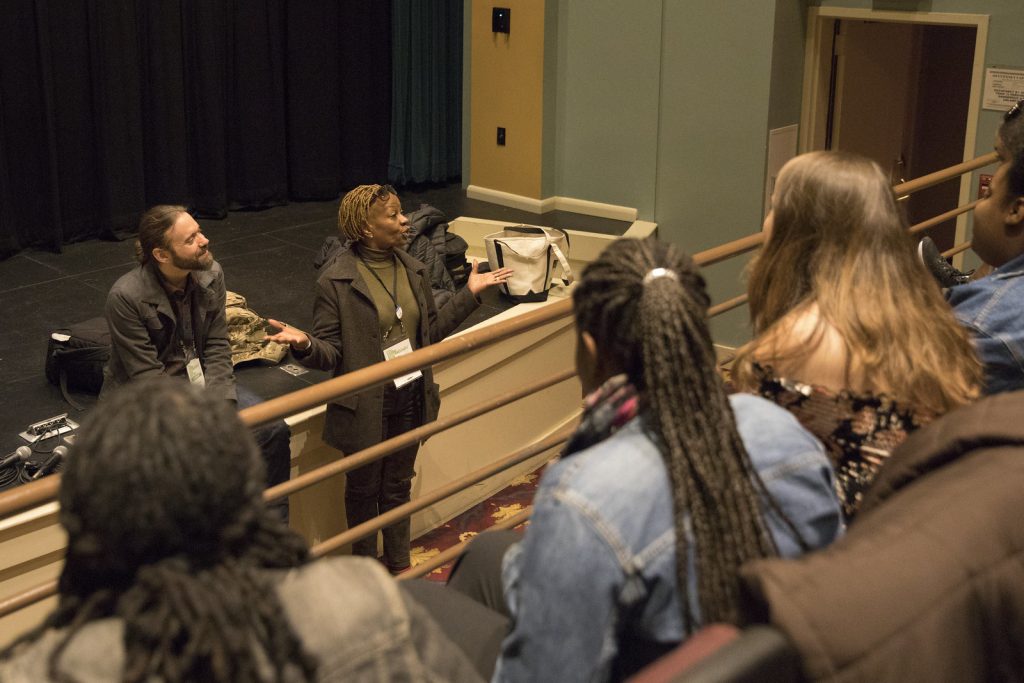 Watch the above view to see selections from discussions held with THE AREA at the Gene Siskel Film Center in Chicago featuring:
Deborah Payne – Protagonist & Co-Producer,

THE AREA
David Schalliol – Director, THE AREA
Emmanuel Pratt – Executive Director, Sweet Water Foundation
Charles Alexander Preston – Activist & journalist
Bishop Edward Peecher – Together Chicago
Tonika Lewis Johnson – Photographer & activist
The National Public Housing Museum's Oral History Corps
Lee Bey – Critic & photographer
Marisa Novara – Vice President, Metropolitan Planning Council
Tweak Harris – Activist & musician
Carlos Javier Ortiz – Photographer & filmmaker
Alden Loury – Senior Editor for Race, Class & Communities, WBEZ Chicago Public Radio
Alex Kotlowitz – Author & filmmaker
Pastor Chris Butler – Chicago Embassy Church
Previous Screenings
2/19/2020
4:00PM
Elmhurst College
Elmhurst, IL
Panel discussion with Deborah Payne and Brian Ashby to follow. Free to Elmhurst College students, faculty, staff, and alumni. $10 to the general public. Tickets available here.
11/10/2019
1:00PM
Nō Studios
Milwaukee, WI
Free Social Justice Summit Screening: Panel discussion with Walnut Way Conservation Corp. co-founders Sharon and Larry Adams with Deborah Payne and David Schalliol. Register here.
10/19/2019
7:00PM
Chicago Filmmakers
Chicago, IL
Chicago Filmmakers Presents: Panel discussion with Deborah Payne and Brian Ashby
9/28/2019
7:30PM
Beverly Arts Center
Chicago, IL
A PullmanArts event co-sponsored by the Beverly Arts Center: Panel discussion with Deborah Payne and Brian Ashby
9/26/2019
7:00PM
Comfort Station
Chicago, IL
The Art Leaders of Color Network Presents: Free panel discussion with Alderman Daniel LaSpata, the Logan Square Neighborhood Association's Christian Diaz, Deborah Payne, and Brian Ashby
9/14/2019
7:00PM
Chicago Filmmakers
Chicago, IL
Chicago Filmmakers Presents: Panel discussion with Deborah Payne, Brian Ashby, and David Schalliol
7/23/2019
6:00PM
Mandrake Park Recreation Facility
Chicago, IL
Panel discussion with Bronzeville Historical Society President Sherry Williams; Englewood Activist John Ellis; Woodlawn Activist Manny Frencha; Activist, Educator, and Author Yaaba X; and filmmakers — Register here
7/19/2019
10:00AM
Osher Lifelong Learning Institute, Northwestern University
Chicago, IL
Free: Panel discussion with Brian Ashby and Deborah Payne — Register here
7/15/2019
5:30PM
Legler Regional Public Library
Chicago, IL
Free screening as part of the Best of Black Harvest Film Festival series: Panel discussion with Brian Ashby and Deborah Payne
6/20-22/2019
Daily
International Visual Sociological Association Annual Meeting
Saratoga Springs, NY
Free with conference registration
5/16/2019
7:00PM
The Block Museum of Art
Evanston, IL
Panel discussion with Deborah Payne, Brian Ashby, and David Schalliol
4/29/2019
8:00PM
Echo Park Film Center
Los Angeles, CA
Panel discussion with Deborah Payne and Brian Ashby
4/26/2019
3:45PM
Urban Affairs Association Annual Meeting
Los Angeles, CA
Free with conference registration: Panel discussion with David Schalliol
4/20/2019
3:00PM
Tube Factory Artspace
Indianapolis, IN
Free: panel discussion moderated by Big Car Collaborative's Co-Founder/Director of Programming & Exhibitions Shauta Marsh, with Deborah Payne, Brian Ashby, and David Schalliol
4/5/2019
2:00PM
Stony Island Arts Bank
Chicago, IL
Screened as part of the Black Panther Party 10 Point Film Series with Black Panther Billy Dunbar, Deborah Payne, and Brian Ashby.
3/29/2019
3:00PM
UMASS Boston
Boston, MA
Panel discussion with Deborah Payne and David Schalliol, moderated by Andrea Leverentz
2/27/2019
6:30PM
University of Illinois Chicago School of Public Health
Chicago, IL
Free: panel discussion with an emphasis on public with Deborah Payne and Brian Ashby
2/21/2019
5:00PM
Oak Street Health
Chicago, IL
Free: panel discussion with an emphasis on senior issues with Deborah Payne and Brian Ashby
2/10/2019
12:30PM
SF Indie Fest
San Francisco, CA
1/29/2019
7:00PM
Studio Movie Grill
Chicago, IL
A discussion about displacement and environmental justice with Chicago mayoral candidate Amara Enyia, equity thought leader Naomi Denise Davis, Deborah Payne, and David Schalliol
1/24/2019
5:00PM
Woodlawn Resource Center
Chicago, IL
The Obama Library CBA Coalition presents a screening followed by a Q & A
1/21/2019
5:00PM
Rush University Medical Center
Chicago, IL
The Office of Community Engagement presents the Dr. Martin Luther King, Jr. Day screening and discussion with Marlon Haywood, Ed.D., LaMenta Conway, M.D., and David Ansell, M.D., with Deborah Payne and Brian Ashby. Moderated by Steven K. Rothschild, M.D.
12/15/2018
12:30PM
Stony Island Arts Bank
Chicago, IL
The Neighborhood Network Alliance presents a screening followed by a Q&A
12/06/2018
6:00PM
Weinberg/Newton Gallery
Chicago, IL
Brian Ashby and Deborah Payne, with contributions from My Block, My Hood, My City
12/03/2018
6:00PM
Kennedy-King College
Chicago, IL
RAGE Co-Founder & President Asiaha Butler and Debra Thompson in conversation with Deborah Payne and David Schalliol, moderated by Kennedy-King Professor Nora Gaines
11/14/2018
6:30PM
St. Olaf College
Northfield, MN
Filmmakers in Person: Deborah Payne and David Schalliol in conversation
11/8/2018
7:00PM
The University of Chicago
Chicago, IL
The Film Studies Center and the Pozen Center for Human Rights present: Deborah Payne, David Schalliol, and Brian Ashby in conversation with Professor Judy Hoffman
10/29/2018
5:00PM
Rush University Medical Center
Chicago, IL
SOLD OUT The Rush University Medical Center Office of Community Engagement presents: Deborah Payne and Brian Ashby in conversation with Marlon Haywood and David Ansell in the Armour Academic Center (Lecture Hall 976)
9/27/2018
8:15PM
Gene Siskel Film Center
Chicago, IL
Chicago Embassy Church Bishop Ed Peecher and Pastor Chris Butler with Deborah Payne
9/26/2018
6:00PM
Gene Siskel Film Center
Chicago, IL
9/24/2018
8:00PM
Gene Siskel Film Center
Chicago, IL
Audrey Petty, author of High Rise Stories, with Deborah Payne and Brian Ashby
9/23/2018
3:00PM
Gene Siskel Film Center
Chicago, IL
Sweet Water Foundation Executive Director Emmanuel Pratt with Deborah Payne and David Schalliol
9/22/2018
7:45PM
Gene Siskel Film Center
Chicago, IL
SOLD OUT Metropolitan Planning Council presents: Photographer & Englewood activist Tonika Johnson in conversation with Deborah Payne and David Schalliol, moderated by MPC's Gabriel Tyler
9/21/2018
8:00PM
Gene Siskel Film Center
Chicago, IL
Photography/Cinematography: Museum of Contemporary Photography presents photographer & filmmaker Carlos Javier Ortiz in conversation with David Schalliol, moderated by MoCP Curator of Academic Programs and Collections Kristin Taylor
9/21/2018
2:00PM
Gene Siskel Film Center
Chicago, IL
9/20/2018
8:15PM
Gene Siskel Film Center
Chicago, IL
Metropolitan Planning Council presents: WBEZ's Senior Editor of Race, Class & Communities Alden Loury and MPC Vice President Marisa Novara in conversation with Deborah Payne
9/19/2018
6:00PM
Gene Siskel Film Center
Chicago, IL
SOLD OUT
9/18/2018
8:30PM
Gene Siskel Film Center
Chicago, IL
Youth Voices: Activist and musician Tweak Harris and activist and journalist Charles Alexander Preston, moderated by The Area's Luis Perez
9/16/2018
5:00PM
Gene Siskel Film Center
Chicago, IL
Storytelling workshop with the National Public Housing Museum, including conversation with Deborah Payne and David Schalliol
9/15/2018
8:00PM
Gene Siskel Film Center
Chicago, IL
Voices from The Area: Alex Kotlowitz, author of There Are No Children Here, in conversation with Deborah Payne and neighbors; David Schalliol and Brian Ashby also in attendance
9/14/2018
8:00PM
Gene Siskel Film Center
Chicago, IL
Filmmakers in Person: Photographer & critic Lee Bey in conversation with David Schalliol, Deborah Payne, and Brian Ashby.
9/14/2018
3:45PM
Gene Siskel Film Center
Chicago, IL
8/23/2018
8:30PM
Black Harvest Film Festival
Chicago, IL
SOLD OUT Filmmakers in Person: Critic Sergio Mims in conversation with David Schalliol, Deborah Payne, and Brian Ashby
6/26/2018
7:00PM
Cinéma L'Imaginaire
Douchy-les-Mines, France
Filmmaker in Person: Centre régional de la photographie Hauts-de-France Executive Director Muriel Enjalran in conversation with David Schalliol
6/23/2018
7:00PM
Cinéma l'Univers
Lille, France
Filmmaker in Person: Q&A with David Schalliol
4/06/2018
7:20PM
Full Frame Film Festival
Durham, NC
Filmmakers in Person: Q&A with David Schalliol, Deborah Payne, and Brian Ashby